Edinburgh City Council lorry drivers take cycling road danger class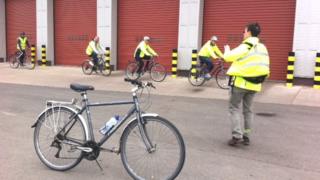 A group of council lorry drivers have taken to the saddle as part of a scheme to make them more aware of the dangers facing cyclists on Edinburgh's roads.
In the first course of its kind in Scotland, employees swapped six wheels for two in an effort to understand the perceptions of cyclists.
The pilot initiative consists of theory and practical sessions.
It was created to encourage drivers to empathise with vulnerable road users and the safety issues they experience.
The practical sessions have been developed with the support of Cycling Scotland, the country's national organisation for the promotion of cycling.
Though the rate of casualties amongst those cycling to work has decreased over the last decade, figures show that a significant proportion of the incidents that do happen are associated with heavy goods vehicles.
It is hoped, by placing drivers in the same position as cyclists, they will gain a better appreciation of the dangers they face on a day-to-day basis.
Driver awareness training was targeted at employees in Edinburgh City Council's transport department.
Safe environment
Lesley Hinds, Edinburgh City Council's transport convener, said: "The council is committed to promoting cycling as a primary mode of transport, and as such we have pledged to invest 7% of our transport budget into developing cycling infrastructure throughout the city.
"But if we are to encourage cycling among our citizens we must ensure that they are given a safe and accessible environment in which to do it.
"By raising awareness of this with our drivers we are leading the way to creating an equal relationship between drivers, cyclists, pedestrians and other road users alike."
Ian Aitken, chief executive of Cycling Scotland said: "Fostering mutual respect is paramount for the safety of all road users and the initial Driver Awareness training for HGVs is a great example of an initiative designed to do just that.
"By putting lorry drivers in the position of cyclists, both in theory and in practice, they will become much more aware of cyclists while out on the road."