Woman 'lied' about pilot Steven Barrett's murder in Edinburgh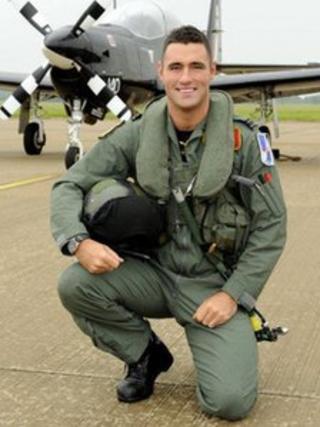 A woman has told a court how she lied to the police for a friend who allegedly murdered his former RAF pilot partner in Edinburgh.
Shannon Nisbet, 24, said she told untruths to investigators who were probing the death of Steven Barrett, 27, in April 2013.
Mr Barrett had been a Flybe first officer working out of Edinburgh.
Darren McLauchlan, 24, denies murdering Steven at a flat in Edinburgh's Lochend Butterfly Way on 6 April 2013.
The High Court in Edinburgh heard Mr McLauchlan asked Miss Nisbet to tell detectives falsehoods about how Mr Barrett came to be stabbed.
She also told the court Mr McLauchlan asked her to clean the knife which prosecutors said was used to kill Mr Barrett, but she refused to do so.
The court also heard Miss Nisbet told lies because she didn't "feel safe" and she started to tell the police the truth about what happened after she told her mother about what had happened.
Gran Canaria
Miss Nisbet, from Glasgow, was giving evidence on the first day of proceedings against Mr McLauchlan.
Mr McLauchlan, from Birmingham, also pleaded not guilty to four other charges which allege he carried out a number of criminal acts between February and April 2013.
Miss Nisbet told prosecution lawyer Alex Prentice QC she had known Mr McLauchlan for many years and her friend had been in a relationship with Mr Barrett since meeting him on holiday in Gran Canaria.
She told the court she and the two men had been drinking in their flat before they headed out to the Opal Lounge nightclub in Edinburgh's George Street.
However, the court heard the trio only had one drink before they decided to return home.
Miss Nisbet said they stopped on a chip shop on their way home to get some food.
However, once they returned to the flat, Mr McLauchlan and Mr Barrett had an argument about the food and the pilot said he was going to bed.
Miss Nisbet said she fell asleep but heard banging from a bedroom.
After she had gone to the bedroom, she saw Mr Barrett lying with a stab wound near his heart.
She then told Mr Prentice Mr McLauchlan told her to say Mr Barrett had been attacked outside the flat.
Miss Nisbet also said Mr Barrett was still conscious at this time.
Miss Nisbet said she saw a knife lying close by and Mr McLauchlan phoned an ambulance.
Abusive manner
Mr McLauchlan denies five charges.
He denies assaulting Mr Barrett on 7 February 2013 at Norwood Hall Hotel in Aberdeen.
Prosecutors said on 9 March 2013 at an unknown pub in Edinburgh Mr McLauchlan assaulted Mr Barrett by glassing him on the face to his injury.
The third charge alleges on two occasions on 9 March 2013 at a flat in Cables Wynd House, Edinburgh, Mr McLauchlan behaved in a threatening or abusive manner which was likely to cause a reasonable person fear and alarm in that he did repeatedly kick and strike the flat door.
Prosecutors said these alleged actions placed Mr Barrett into a state of fear and alarm.
The fourth charges alleges on 6 April 2013, at a flat in Lochend Butterfly Way, Edinburgh, Mr McLauchlan murdered Mr Barrett by stabbing him on the body with a knife or similar instrument and he later died at Edinburgh Royal Infirmary Hospital.
The fifth charge alleges Mr McLauchlan attempted to avoid detection for the murder of Mr Barrett and he attempted to defeat the ends of justice by his actions following the alleged murder.
The trial before temporary judge Michael O'Grady QC continues on Thursday.