Smoke bomb warning after several incidents in Fife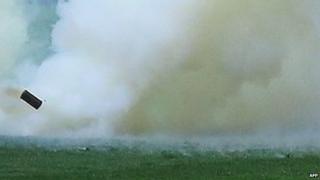 Fire crews from Fife have recently had to deal with a number of incidents involving smoke bombs.
The smoke bombs have been deliberately activated in enclosed places resulting in fire crews responding to incidents in homes and stairwells.
The Scottish Fire and Rescue Service is urging witnesses to come forward to help with its investigation.
Fire officials said the bombs can sometimes also ignite flammable materials.
Lung damage
Station Manager Iain Brocklebank said: "The use of these devices in inappropriate locations causes fear and panic to householders.
"It may also result in sufficient inhalation of smoke to cause irritation of the respiratory tract and lung damage.
"Smoke bombs produce a large amount of smoke that does not quickly disperse and improper use can be dangerous and harmful.
"Under some circumstances can also ignite flammable materials therefore proper precautions must be taken to prevent fires involving combustible materials or in dry field conditions."