Torchlight procession to celebrate Forth Road Bridge's 50th birthday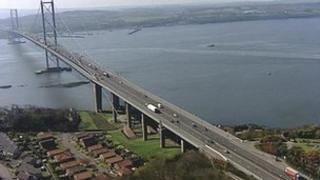 A torchlight procession and fireworks event will conclude this year's celebrations to mark the 50th anniversary of the Forth Road Bridge.
The one-off event will be open to visitors and locals from both sides of the water, with starting points on either side of the bridge.
Revellers will then cross over and meet their neighbours from the other side.
Tickets are expected to go on sale later this summer for the 13 September event.
Forth flotilla
Lesley Hinds, FETA convener, said: "This is sure to be a memorable occasion for all involved, and will form a fitting finale to the packed programme of events taking place on and around the bridge this summer.
"I'm delighted that the event will raise money for local good causes and I'm sure there will be a great response from local residents and visitors alike.
"This will be the first time that an event of this type has been held on the Forth Road Bridge, and what better way to appreciate the scale and splendour of this magnificent structure than to be part of such an atmospheric occasion while raising money for good causes."
The Forth Bridges Festival is being held by FETA in partnership with Queensferry Ambition to celebrate the 50th anniversary of the Forth Road Bridge opening.
Other events in the programme include 2,014 trips to the top of the main towers, a flotilla on the Forth, an attempt for the largest ever sit-down lunch, an artist in residence, an ancestry project and a motorcycle rally.