Edinburgh tram starting date revealed as 31 May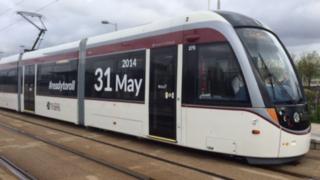 Edinburgh's new trams will carry their first paying passengers on Saturday 31 May.
The first service will leave the Gyle shopping centre, bound for the city centre, at 05:00.
The controversial project has seen the construction of a line from Edinburgh Airport to York Place, costing £776m.
Transport for Edinburgh, which oversees the capital's tram and bus services, ran a test of the system using volunteers in March.
It follows six years of building work and problems, including a long-running dispute between the council and its contractor.
Thousands of passengers
Trams have become a familiar sight in the capital recently, with testing of the system ongoing since March.
Thousands of passengers have boarded trams to allow Transport for Edinburgh to check out the operation and crowd management procedures.
Testing and training for drivers and staff will continue over the next four weeks but management feel it has reached a "satisfactory stage", allowing them to set a start date.
Lesley Hinds, Edinburgh City Council transport convener, said: "When I took over two years ago, I promised what I would try to do and strive to do was to have this tram project on the revised budget and on the revised timetable.
"We're on budget and today's announcement means the revised timetable - which was summer this year - and we've managed to bring it forward so that's why I'm really pleased that we've managed that."
Ms Hinds accepted that many residents would feel only relief that the construction phase is over.
She added: "I understand - as a resident who's chosen to live here for 35 years and brought up my family - that the people of Edinburgh have been very frustrated because we are, in terms of budget and in terms of the line and in terms of the timetable set by the previous administration, has not been delivered.
"All I can say is that I over the last two years I have taken this project by the scruff of the neck."
'Look forward'
Ian Craig, chief executive of Transport for Edinburgh, said: "We've recruited and trained a top team at Edinburgh Trams and I'm delighted with the high levels of performance and enthusiasm from everyone involved in the months leading up to today.
"With four weeks to go, the systems are in place, our training and testing is nearly complete and the final countdown is on.
"We're delighted to be the operator of Edinburgh Trams and, through full integration with Lothian Buses, we're looking forward to delivering a transport system of the highest quality for Edinburgh."
Transport Minister Keith Brown said: "Now that we have a confirmed date for the first passenger service it's time to look forward with confidence and for the trams to give something back to Edinburgh.
"There has been much excitement and interest generated by the driver testing phase and the response on social media alone suggests that residents and local businesses are warming to the trams.
"Visitors to the capital will soon reap the rewards of a fully operational tram system, revamped Haymarket Station and redeveloped Waverley Station."