Six held in football disorder probe in Edinburgh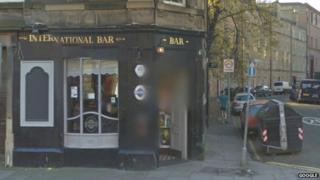 Six men have been charged in a police crackdown on football-related disorder.
Operation Wolf was launched in Edinburgh after a disturbance at a pub in the city on Sunday.
Two men were injured at the International Bar in Brougham Place, north of the Meadows. Hearts had earlier defeated Hibs 2-1 at Easter Road.
Police said six men aged between 19 and 30 had been charged after officers visited addresses across the city.
They are all expected to appear at Edinburgh Sheriff Court on Friday.
Supt Matt Richards, of Police Scotland, said: "Operation Wolf has been launched following engagement with our various communities, who have highlighted a number of local issues that require a police response.
"Crimes such as violence, anti-social behaviour, drugs and hate crime can have a significant impact on public confidence and through this initiative we are demonstrating our commitment to tackling these offences and bringing those responsible to justice.
"The disorder that took place outside the International Bar was not only distressing for the local residents in the area, but it left two men injured and violent offences like this will not be tolerated in Edinburgh.
"Operation Wolf enforcement will continue throughout this month to target those involved in all sorts of criminal activities and I would urge the public to continue to engage with us to report crime and identify the issues affecting their area.
"Where crimes like those at the International Bar are committed, the full resources of Operation Wolf will be used to hunt offenders down."