RAF squadron returns to Fife base after Afghan deployment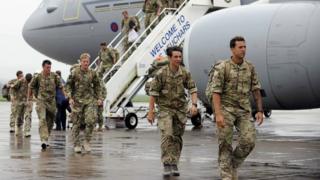 An RAF squadron has returned to its Scottish base after a seven month deployment in Afghanistan.
Number 58 Squadron, Royal Air Force Regiment, touched down in RAF Leuchars in Fife on Wednesday.
Their role in Afghanistan included providing protection to the Camp Bastion airfield and the Medical Emergency Response team.
The squadron will celebrate its return by parading through St Andrews on 10 May.
During the deployment they often worked beyond the perimeter for 14 days at a time.
Senior Aircraftman Ed Grant said : "Improvised Explosive Devices were an ever present threat and the weather had a significant impact on patrols.
"The first snowfall in Helmand Province for nearly a decade severely hampered movement and made conditions extreme for us.
"We always managed to keep our morale high though and it certainly helped that everyone could stay in touch with home."
The squadron deployed in October 2013 as part of Number 5 Force Protection Wing alongside 51 Squadron from RAF Lossiemouth.
Leuchars is to become an Army base by 2015 with the jets it currently hosts moving to RAF Lossiemouth.