Mohamed Abdi shooting: Court told of crack and very loud scream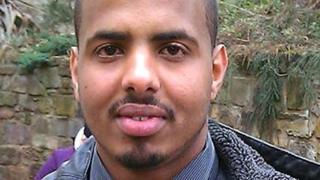 A woman who lives close to where Mohamed Abdi was murdered in Edinburgh has told a trial how she heard a crack and a very loud scream.
Jacqueline Cairney said the scream was so high pitched she thought it had come from a woman.
Mohamud Mohamud, 30, Ahmed Ahmed, 28, Cadil Huseen, 23, Hussein Ali, 26, Liban Ahmed, 30, Said Fadal, 32, and Said Tarabi, 27, deny all the charges.
It is alleged they shot Mohamed Abdi, 25, after a car chase in May 2013.
Ms Cairney told the High Court in Glasgow she heard another two cracks and saw two men in hooded tops running along the street.
Another witness who lived at the junction of Abercorn Avenue and Willowbrae Road close to where Mr Abdi's body was found said in a police statement that he heard five or six popping sounds, like when someone fires a paintball gun and keep their finger on the trigger.
The trial continues.