Mortonhall baby ashes: Report on scandal to be released next week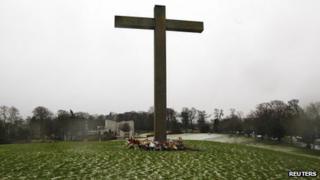 Edinburgh council chiefs have confirmed that a report into the baby ashes scandal at Mortonhall is to be published next week.
Dame Elish Angiolini submitted her investigation into the cremation of babies at the council-run crematorium last week.
Council chiefs have now agreed to publish the report on 30 April.
The crematorium buried or scattered the ashes of babies for decades.
But parents had been told there would be nothing left to scatter after their babies had been cremated. Hundreds of families were affected and many are considering legal action.
Former Dame Elish, the former lord advocate, gave her findings to the council on 14 April after a probe into former practices at the crematorium.
The chief executive of Edinburgh Council, Sue Bruce, has said she needed to read Dame Elish Angiolini's report thoroughly before setting a date.
She said: "Due to the length of the report, we expect to publish it on Wednesday 30 April with parents receiving a personal copy that morning, ahead of wider publication.
"I intend to write to parents personally tomorrow to advise them of this. I understand how anxious they are to receive the report and hope this timescale will reassure them."
Dorothy Maitland, operations director of the Stillborn and Neonatal Death Society (Sands) Lothians, who is also one of the affected parents, said she was "very, very disappointed" that no-one from the council had let her know they had received the report.
She told BBC Radio Scotland: "I think they could have informed us that the report was with the council. None of us have slept last night.
"I would like to meet with Sue Bruce and discuss how we are going to support all these parents, bearing in mind that I am an affected parent and I am very scared that what I have actually been told is in fact not the truth.
"Everybody's emotions are going all over the place at the moment."
Patrick McGuire, from Thompsons Solicitors, who represents many of the families involved, said: "Firstly, I would have to say the families and myself are stunned that we learned this news through reports in the media.
"My clients are bereaved parents who have been to hell and back over this whole business and they expect to be treated in a sympathetic and decent manner.
"Being kept properly informed is the least they could expect from Edinburgh City Council after what they have been through."