Edinburgh City Council receives baby ashes report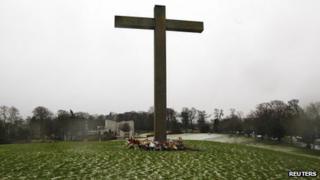 Edinburgh City Council has received the report into Mortonhall Crematorium, where babies remains were disposed of without their parents' knowledge.
Hundreds of families were affected and many are considering legal action.
The former lord advocate, Dame Elish Angiolini, has been investigating how babies ashes were dealt with.
Her report is expected to detail the cases of more than 200 babies whose ashes were either scattered or buried without their families' consent.
Bereaved families have said they were told there were no ashes left after a baby was cremated.
Sue Bruce, chief executive of the City of Edinburgh Council said: "I have now received a copy of Dame Elish Angiolini's report.
"I fully appreciate that parents will be anxious to read the report and we are keen for them to receive a copy as soon as possible.
"We will be writing to parents in the coming days outlining the timing of publication."
She added: "I would like to thank the families for their ongoing patience and Dame Elish and her team for their hard work on this important and sensitive investigation."
'Let down'
Gary McDougall, 53, whose son Fraser died at birth, said: ''Fraser was born on 11.11.99. How apt. Remembrance Day, never forgotten.
"He lived for five minutes and we had him in our hands, my wife and I, until he passed to another place shall we say.
"We wanted ashes and the girl told me no that doesn't happen. You don't get ashes from a baby, they're too small, too young, and we felt devastated at the time but you think they are the experts so we took their advice.
"We believed them but lo and behold, much later we discovered that wasn't the case.
"These people must be brought to justice. Somebody must be accountable for what they've done with all these babies, not just us but all the other parents.
"We've been let down in a massive massive way by people we trusted. That's a hammer blow to us."
Fraser's mother, Arlene McDougall, 53, said: "I've a lot of anger. They deprived me. Nobody has any right to deprive a mother of her baby's ashes. Somebody somewhere decided that baby's ashes weren't worth anything'."
Dorothy Maitland, operations manager for Sands (the Stillbirth And Neonatal Death Society), had her daughter Kaelen's remains cremated at Mortonhall in 1986, and was told there would be no ashes to scatter.
She said: ''It's so important for the future that this never happens again and that communication between hospital staff, funeral directors and crematorium staff means they all know what will happen to that baby because parents deserve that'.
''What right do these people have to do that to us? Why do they think they should be able to do that and it's just made me feel that my daughter was treated with no respect."