Man dies after greenhouse crash in Edinburgh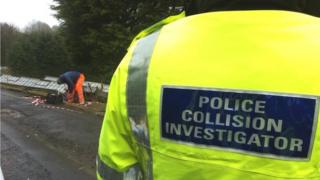 A driver has been killed after his car left an Edinburgh road, rolled down an embankment and crashed into a glass greenhouse at a plant wholesalers.
At least 20 firefighters were involved in freeing the man from the car, which landed on its roof, but he was pronounced dead at the scene.
The incident happened just after 11:40 at Downe's Nursery on Gillespie Road.
Emergency services were also called to a car and caravan upside down following a crash on the Edinburgh City Bypass.
No-one was injured in the crash which happened just before the Dreghorn turnoff at about 11.45.
There was also a three-car crash in the city's London Road at 11:50. There were no injuries.
Police are appealing for witnesses.