Wave Project: Dunbar surf school 'to improve well-being'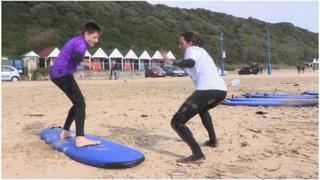 A surf school aiming to improve the well-being of vulnerable children is being launched in East Lothian.
The six-week scheme at Dunbar has been funded by amateur surfers and donations from local organisations. It will be run by volunteers.
The Waves Project began in Cornwall, known as the surfing capital of the UK, and is now being extended.
The free courses are designed to help with young people's confidence, resilience and well-being.
Twenty young people from East Lothian will take part in the course, which is being run in partnership with Coast to Coast Surf School.
Local charities, universities and members of the surfing community have raised more than £7,000 for the project.
The Wave Project has run successful surf courses in Cornwall, Devon and Dorset over the past four years.
Organisers said the schemes were independently assessed for the psychological effect they had on participants.
Wave Project Scotland co-ordinator Jamie Marshalls said: "It's so great that the community in Scotland has got behind The Wave Project in such as positive way.
"Having worked on the project in Cornwall, I think this service will be fantastic for young people in Scotland and really help to improve their wellbeing."
Sam Christopherson, head instructor of Coast to Coast Surf School, which will be overseeing the lessons, added: "We are super excited to be working with Jamie and the Wave Project.
"Surfing as a sport can appeal in so many ways, whether its adrenaline rush of catching a wave, getting fit, providing a calming and relaxing effect or simply appreciating coastal nature at its best.
"We are stoked to be helping to bring surfing with the wave project literally to children that won't have had this experience before in Scotland and we are really looking forward to seeing the positive difference it makes to their lives."