Leigh Griffiths assault charge deserted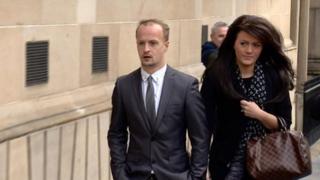 Celtic striker Leigh Griffiths has walked free from court after a charge of assault against him was deserted.
The 23-year-old Scotland international had been charged with assaulting a 22-year old man by seizing him by the neck and pushing him on to the road in Edinburgh last June.
He denied the charge and lodged a special defence of self-defence.
The case was deserted simpliciter after it emerged the alleged victim and another witness had not been cited.
Fiscal Depute Sarah Lumsden told the Justice of the Peace Court in Edinburgh that the two men were no longer living at the addresses they had been when the assault allegedly took place.
She added that if the men could be traced, her understanding was "there is nothing to suggest these individuals are reluctant to attend".
The fiscal added: "It is in the public interest this case continues. This was a violent and unprovoked attack on a complete stranger to the accused on a public street, the North Bridge, in the middle of the day about one o'clock".
She asked for the trial to be adjourned until 19 March - exactly a year after the offence was alleged to have been committed.
But Justice Les McEwan pointed out that the Crown had stated in March that the men had been cited.
He referred to a High Court statement that it was in the public interest that summary cases be dealt with expeditiously.
He added: "The complainer indeed has the right to expect justice, but any accused has the right to expect the charges against him to be dealt with expeditiously. Taking that into account, the Crown's motion to adjourn is refused".
Justice McEwan deserted the case simpliciter - meaning the Crown cannot renew the charge at a later date - and told Griffiths he was free to leave the court.