Former MSP Bill Walker loses appeal convictions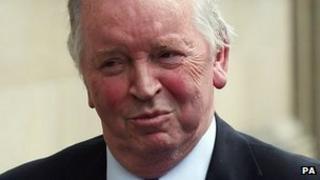 Ex-MSP Bill Walker has lost a bid to overturn his convictions for assaulting a woman during a catalogue of domestic abuse that earned him a jail sentence.
Walker was jailed for 12 months last September after being found guilty of 23 assaults and one breach of the peace which spanned decades.
His case was heard by three judges at the Appeal Court in Edinburgh.
The 72-year-old was released from Dumfries Prison last month after serving six months of his sentence.
Walker was jailed after he was found guilty of attacking three former wives, Maureen Traquair, Anne Gruber and Diana Walker and a teenage step-daughter.
Punched and slapped
The former SNP MSP originally sought to launch an appeal on a number of grounds, but only one was allowed to go through to appeal judges.
It related to two charges of assault against Ms Traquair, 66, who was punched and slapped, but this was rejected by the Lord Justice Clerk, Lord Carloway, sitting with Lady Dorrian and Lord Bracadale at the Justiciary Appeal Court in Edinburgh.
Defence solicitor advocate John Keenan argued the first two assault charges relating to Walker's first wife were separated from the other offences he was found guilty of by a gap of about eight years, between the end of 1969 and the start of 1978.
Mr Keenan said the question was whether in those circumstances the doctrine of mutual corroboration, with the evidence of one victim providing support for others, could be applied.
Lady Dorrian said Ms Traquair, Walker's first wife, had spoken of violence towards her before, during and after the marriage. A later charge concerned an incident during a reconciliation.
The judge said they were of the view that it was "entirely artificial to seek to compartmentalise" her evidence on the earlier charges when she spoke of a course of conduct towards her at times when there was a relationship.
Walker, from Alloa, in Clackmannanshire, sat as an MSP for Dunfermline before resigning in the wake of his trial at Edinburgh Sheriff Court last year.
He was not at court to hear his appeal being rejected.
Mr Walker said: "I am very disappointed that their lordships have not overturned these two convictions, for which I have now served a prison sentence.
"I am also disappointed, however, that they were not able to re-examine the validity of the remaining convictions, which were also made under the Moorov Doctrine.
"Unfortunately, I simply cannot afford to pursue these further through other legal channels.
"My wife and I are now very much looking forward to getting on with the rest of our lives with our family and friends."