National Museum of Scotland and National War Museum closed by strike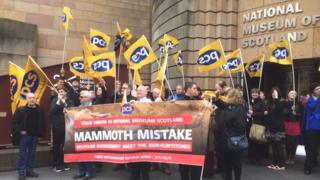 The National Museum of Scotland and The National War Museum in Edinburgh have closed due to industrial action.
Members of the PCS union walked out at 13:00 on Friday over a long-running dispute about weekend allowances.
The two museums are to remain closed until 10:00 on Saturday.
The National Museum of Flight in East Fortune and National Museum of Rural Life in East Kilbride are expected to remain open.
The PCS says some of the museum's lowest paid workers are being denied a weekend working allowance which is normally paid to compensate staff for working anti-social hours.
The union says staff employed since 2011 are suffering a "huge detrimental impact on their standard of living" as a result of the changes, which it claims have created a "two-tier" workforce.
A National Museums Scotland spokeswoman said: "It is regrettable that PCS has chosen to take this action during the Easter school holidays impacting on planned days out for so many children and their parents.
"Like many other public sector organisations, National Museums Scotland has had to make a wide range of changes in order to manage the reduced budgets which have been a result of the financial crisis.
"These changes have included reducing staff numbers, reducing a range of budgets, constraining some services and introducing a change to some terms and conditions for staff newly appointed to ensure that we could continue to operate within the funding available."
The National Museum of Scotland was also closed on Boxing Day last year due to strike action.