Rescue bid to save The Byre Theatre in Fife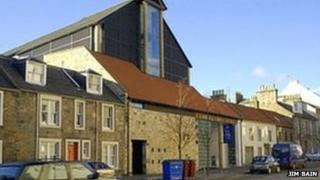 A Fife theatre could reopen permanently after a university proposed a major rescue package.
The Byre Theatre, which has hosted drama productions for 80 years, was forced to cease trading last year after running into financial difficulties.
However, now St Andrews University has come up with a plan to save the council owned venue.
The university has proposed a model designed to broaden the use and reach of the theatre for the area.
Major festivals
Under the plans during the day the main auditorium would be used as a university teaching space for lectures in English, Social Anthropology, Film Studies and Music, while the studio theatre would be used for the teaching of drama and script-writing as well as for orchestra rehearsals and informal performances.
During evenings and weekends, however, the main auditorium would become an arts centre providing a focus for student and community-led music and drama.
The venue would also continue to support and major festivals such as StAnza, St Andrews Voices, the Fife Jazz Festival and On the Rocks.
Art films, mini film festivals, and live broadcasts from the likes of the National Theatre, Royal Opera and Metropolitan Opera would also form part of the Byre's programme.
At the same time the Byre would become the administrative base of the university's music centre, currently located in the Younger Hall.
Creative use
Professor Malcolm MacLeod, St Andrews vice-principal for enterprise and engagement, said: "As one of the world's top 50 Arts and Humanities Universities, we have a vested interest in how the Arts are valued in Scotland.
"It is part of our core mission to nurture and promote a wider appreciation and understanding of the Arts.
"That is why we want to ensure the future of the Byre Theatre, and to re-open it up for educational and creative use.
"The Byre's demise and subsequent long-term closure have been sorely felt in St Andrews and further afield, not just because the town lost a very important and much loved theatre, but because people lost their jobs and their livelihoods.
"With the support of Fife Council officials, we have given this proposal considerable thought and believe that our plans offer the Byre a fresh start, new life and a sustainable future founded on mixed use, at no cost to the local authority in Fife."
The full bid is expected to be considered by Fife councillors on Tuesday, along with other bids to run the theatre.