Couple jailed for extortion bid in Edinburgh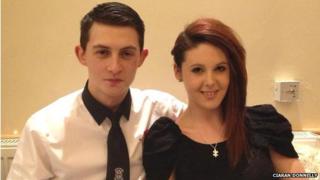 A couple who attempted to extort cash from an amateur glamour photographer by threatening to expose his allegedly sleazy lifestyle have been jailed.
Garry Faulds, 21, from Paisley, was sentenced to to six years in prison and his fiancee Laura Colquhoun, 17, was given three years detention.
They were convicted earlier of robbing, hitting and threatening to extort cash from a man in Edinburgh on August 2013.
The 53-year-old man cannot be named for legal reasons.
The High Court in Edinburgh heard how the man spent over a year taking photographs of aspiring model, Colquhoun.
Gaffer tape
The court heard that Colquhoun, from Paisley, had repeatedly performed a sex act on him and was receiving £150 per photo session.
On 23 August last year, the teenager allowed her boyfriend, who was wearing a balaclava and a blue boiler suit, to enter the local government employee's home in the capital.
Once inside, Faulds tied the man's arms, legs and mouth together with gaffer tape and threatened him with a gas canister.
He also repeatedly hit the man and told him he was a member of an Ulster loyalist terror group who could cause him serious harm.
He also said he would tell the man's employers he was taking illegal photographs of underage girls.
Faulds' advocate John McElroy said his client deeply regretted his actions.
Mr McElroy added: "There is a practical realism on the part of Mr Faulds. He admitted his role in the offence and a guilty plea was offered to the Crown at an earlier stage of the process. This was refused.
"He regrets his actions."
'Vulnerable individual'
Temporary judge Paul Arthurson said: "Given the extremely serious nature of the offence, which must have been truly terrifying for the complainer who was in own home, custodial sentences are inevitable."
The man has never been charged or prosecuted in connection with the allegations made by Faulds.
Colquhoun's solicitor advocate Liam O'Donnell asked Judge Arthurson not to jail his client.
Mr O'Donnell added: "She is a vulnerable individual. Social workers describe her as somebody who is naive.
"She made a seriously poor decision on the day in question. She was very much the minor actor in the flat.
"The report describes her as being a vulnerable young woman who is keen to do well but is easily led."
However, Judge Arthurson said custodial sentences were inevitable.