New Kirk moderator chosen after previous appointee withdraws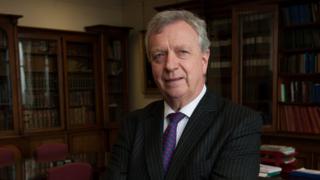 A new moderator designate has been chosen to lead the Church of Scotland's general assembly after the previous choice withdrew due to ill health.
The Reverend John Chalmers, 61, will take up the office of moderator in May.
In March, the Reverend Angus Morrison said he was unable to take on the role because he was undergoing medical treatment and might need surgery.
Mr Chalmers is the longstanding principal clerk to the Kirk's General Assembly.
He said: "It is an unexpected privilege and a real honour to be entrusted with this role at this time.
"If the Assembly supports my nomination, I will seek above all else to hold the people of the Church of Scotland together in peace and unity."
Addressing the challenges ahead, he added: "My focus will be on those things that unite us. Within the church we have to learn to live with our differences."
'Instrument of healing'
He also said the church needed to be "an instrument of healing and reconciliation in post-referendum Scotland".
Mr Chalmers, whose sister had Down's Syndrome, has spent much of his life supporting the charity Enable, which campaigns for people with learning disabilities.
In 2011 his youngest son John-James was injured in Afghanistan while serving with the Royal Marines.
Born in Bothwell, South Lanarkshire, he has previously served as a minister in Renton Trinity Parish in West Dunbartonshire and Palmerston Place Church in Edinburgh.
The previous choice, Dr Morrison, is currently the minister of Orwell and Portmoak Church, in Perth and Kinross.
He was due to take over the annual appointment from the Right Reverend Lorna Hood but became the first moderator designate in living memory to stand down.
He said the decision was a "painful' one but he believed the job required a candidate operating "on all cylinders".
The moderator chairs the general assembly of the Church of Scotland in Edinburgh each May, signing documents on its behalf and ruling on points of order.
After chairing the Assembly, the moderator spends the following year representing the Church of Scotland.
The post is an honorary one, chosen by a committee of 51 members including previous moderators.