RAF and civilian jet collision risk near Leuchars was 'high'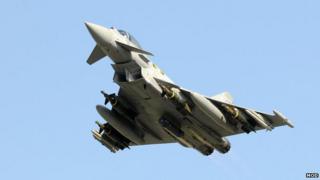 Military and civilian aviation authorities have been asked to review procedures after a near-miss between an RAF Typhoon and a small passenger jet.
The Typhoon and Embraer 145 passed 900ft (274m) from one another near RAF Leuchars in Fife on 5 August last year.
A new UK Airprox report said the risk of collision was "high".
The report said the Typhoon climbing faster than 8,000ft per minute and air force traffic controllers' actions were factors.
The UK Airprox Board has recommended that the RAF, Military Aviation Authority and Civil Aviation Authority review procedures which led to the near-miss.
The Typhoon almost collided with the civilian aircraft as it climbed at speed from RAF Leuchars. The Embraer was on a flight from Aberdeen.
According to the report, the civilian plane's pilot had to disengage autopilot and "rolled" his jet quickly using a 45 to 60 degree angle of bank.
The Typhoon pilot was told by a trainee controller to stop his climb after she realised "the imminent danger" of the situation.