David Clark jailed for killing nephew in Kirkcaldy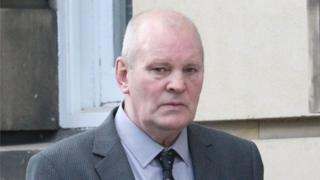 A man who killed his nephew by stabbing him in the thigh after a 12-hour drinking session has been jailed for seven years and seven months.
David Clark, 61, and Andrew Clark, 45, got together in August 2013 following the death of a relative from cancer.
However, an argument broke out after they went back to David Clark's flat in Forth View, Kirkcaldy, Fife.
Andrew Clark bled to death in bed after being stabbed in the thigh by his uncle, who admitted culpable homicide.
At the High Court in Edinburgh, Lord Kinclaven told David Clark : "You used a weapon and took a life with it. Your voluntary intoxication is no excuse."
The judge said he would have faced a 12-year prison term, but for his guilty plea.
Heard shouting
Advocate depute Andrew Brown QC said the offence seemed to have stemmed from "an alcohol-driven argument about the deceased's father after both men had been drinking for 12 hours".
The pair had met up on 7 August, along with Andrew Clark's girlfriend, Elaine Robertson.
"There had been no animosity previously and witnesses instead describe the three as being in good spirits while in public houses prior to returning to the accused's flat shortly after midnight," said Mr Brown.
However, shortly after they arrived back at the flat neighbours heard shouting.
"It sounded to neighbours as if items were being thrown around," said the advocate depute.
Ms Robertson said an argument between the men over Andrew Clark's father and money had got out of hand, and that David Clark became "extremely angry".
He admitted seizing his nephew by the throat, punching him on the body and stabbing him in the early hours of 8 August.
After being wounded, Andrew Clark told his girlfriend that he wanted to go to bed and sleep.
'Very remorseful'
His leg was dressed to stem the bleeding. However, when Ms Robertson went to check on him later, she found him covered in blood.
Mr Brown said: "She tried to rouse him but it would appear that Mr Clark may have been dead already."
Andrew Clark, who was living in Glenrothes but was originally from Aberdeen, died from a wound which had damaged the femoral vein.
A knife which was discovered in a kitchen drawer in the house was found to have the victim's blood on the hilt.
Defence counsel Gordon Jackson QC said it was a tragic case, and that his client was "very remorseful for his actions".
He said David Clark did not remember stabbing his nephew or using the knife.