Mark Flay sentenced to a year in jail for embezzlement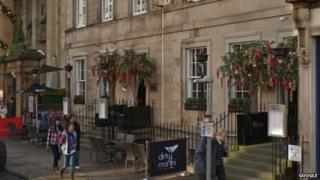 The night manager of the Le Monde hotel has been jailed for a year after stealing £18,000 from the business.
Mark Flay had previously pleaded guilty at the city's Sheriff Court to embezzling money between 11 October 2012 and 4 March last year.
CCTV footage showed the 26-year-old opening a till inside the Le Monde hotel and taking cash.
The court sheriff refused an appeal for a deferred sentence to allow Flay to finish his university course.
Flay, who was the most senior member of staff on duty at night, had access to the hotel's till system to allow him to make any refunds to customers.
He was caught when the company's IT Manager noticed that the funds were lower than they should have been, with three withdrawals totalling £1,700 in the early hours of the morning.
On viewing CCTV footage, Flay was seen, on his own, operating the till system, taking money and putting the receipts in his pocket.
When questioned by police, Flay said that he was "deeply ashamed" of what he had done and had made efforts to return some of the money.
Defence solicitor, Charles Morrison said Flay was two months away from completing a degree course in Sub-sea Engineering at Newcastle University and had hopes of employment.
The QC said: "His hope is he will be in a position to get employment and make restitution" said the lawyer, adding: "You could defer sentence for a short period to see if he makes restitution".
Sheriff Paul Arthurson told Flay: "You pled guilty to a serious offence on indictment. I have read the report and testimonials and the report is favourable. Had you not paid back the £7000 at the outset, I would have started at 24 months, reducing that to 18 months and sentence you to 12 months".
The Sheriff added: "You brought this upon yourself".