Kirkcaldy High sex education project tackles teen pregnancies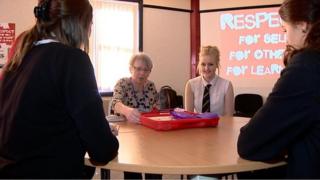 A pioneering school sex education project is being credited with a big fall in under-age pregnancies.
Kirkcaldy High in Fife has a regular sexual health drop-in service delivered by the school nurse, with some older students also trained to offer advice.
The scheme was devised in response to the relatively high number of teenage pregnancies among pupils.
Since it was set up three years ago, under-age pregnancies in the school catchment area have fallen by 40%.
Head teacher Derek Allan and his team of staff said the project was about far more than offering advice on contraception. It is about relationships, emotions and addressing, upfront, how issues like peer pressure or lack of self esteem may make some teenagers feel they should have sex.
Mr Allan said: "The programme starts from a basis of talking to young people openly about relationships, respect for self and for others and the negative impact of underage sex, and continues with a sensible, mature dialogue about the realities of what's happening in their lives.
"There has been such a strong partnership approach to this programme between the school, NHS Fife and the central education services which has led to such positive outcomes.
"I'm genuinely proud of what we've achieved and hope that this opens doors for other schools to take a similar approach."
One part of the programme involves an intensive education programme on sex and relationships. It is delivered in small, single-sex groups by teachers and health workers.
Another important part of the scheme involves the older students themselves.
Some volunteers, carefully selected for their personal maturity and sensitivity, are trained to be so-called peer advisors and educators.
They are able to help provide or obtain information for those who might have a query which they would be uncomfortable asking an adult about directly.
But perhaps the most radical part of the project is a drop-in clinic at the school nurse's office. Students can obtain advice - or may even be able to get contraception. This is part of a joined-up approach with the NHS.
Mr Allan stressed there was nothing the teenagers were given at the clinic which they would not be able to get from the NHS directly. What is unusual is the way the school is involved.
This project has not proved controversial locally. Parents have been kept informed.
But within society some would be adamant the message to teenagers should be simple and straightforward: "Don't have sex." Others may be troubled on either religious or moral grounds.
Mr Allan said he would rather the problem of teenage sex and underage pregnancy did not exist but believes it is better to deal with the reality of the situation some teenagers are actually in.
It is unlikely such a radical approach to sex education would ever be appropriate for all schools. A different approach to the subject is taken at Roman Catholic schools.
But the staff at Kirkcaldy High believe their approach could work at other schools facing similar challenges.
It recently won a national award for good practice within councils and already other schools in Fife are taking inspiration from it.