Qatar Airways launches new Dreamliner flight between Edinburgh and Doha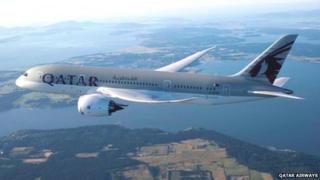 A new service between Edinburgh and Qatar will begin operation on 28 May, it has been announced.
Qatar Airlines will introduce the non-stop, five days a week service between Edinburgh and Doha.
Boeing's 787 Dreamliner aircraft will fly all year round on the route, which will provide connections to more than 136 different destinations.
The flight will take less than seven hours.
Qatar Airlines chief executive Akbar Al Baker said: "Not only will this benefit the local market in Scotland, but also attract a significant amount of business and trade links for those wishing to travel to Edinburgh from all corners of the world."
He added: "The start of services from Edinburgh to Doha not only offers travellers from the Scottish capital access to the Middle East in under seven hours, but also a quicker journey time to other popular destinations in Asia, India and Australasia."
The service will operate on Mondays, Wednesdays, Fridays, Saturdays and Sundays.
Mr Al Baker said that one reason for choosing Edinburgh was that Glasgow already has a link to the Middle East, with Emirates flying to Dubai.
He said: "Glasgow is already served from our region, so we don't like to follow people, we like to lead people to go to new places."
Qatar Airlines already flies to London and Manchester in the UK, and currently serves 136 destinations around the world.
The airline is one of the fastest growing commercial flight operators and recently announced plans to expand with new services at Cyprus, Miami and Philidelphia airports in the coming months.