Thornton toddler death probed by police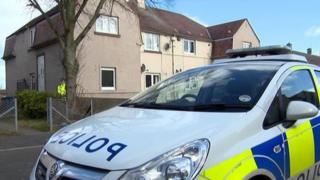 Police are investigating the "unexplained" death of a two-year-old boy at a house in Fife.
Officers were called to what has been described as a serious incident in Donald Crescent in Thornton on Saturday evening.
It is believed they were alerted by a Scottish Ambulance Service crew.
Police said the death was due to a "tragic set of circumstances". They are not looking for anyone else in connection with the incident.
Supt Dougie Milton said: "This is a tragic set of circumstances where, sadly, a two-year-old boy has lost his life.
"We are undertaking a thorough investigation and working with and supporting the immediate family.
"I can reassure the local community that at this time Police Scotland are not looking for anyone else in relation to this unexplained death."
Supt Milton said the boy had been inside the house when he was found. No one has been arrested or detained in connection with the incident.
The officer added: "It is the early stages of the investigation. There are numerous lines of inquiry, a lot of work to be done still, and that is where we are at this time."
A post mortem is to be carried out on the dead boy in the coming days to establish exactly how he died.
"It would be unfair at this time, and not right, to speculate on the cause of the death", Supt Milton added.
Local residents spoken to by BBC Scotland said two ambulances and about five or six police cars had been called to the property on Saturday night.
Forensics teams worked at the house into the early hours of Sunday morning, they said.
A police presence remained at the property on Sunday afternoon as investigations continued.