Man stabbed young father to death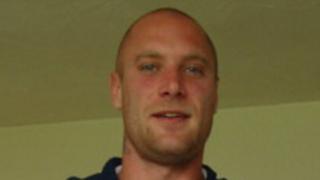 A young father was stabbed to death by a man who believed his barmaid girlfriend was having an affair with one of her customers.
Dean Williams, 21, struck Craig Essen, 28, with a knife after a fracas outside a bar in Midlothian, last November.
Williams had earlier stormed into the pub in the belief his barmaid girlfriend had been unfaithful. Mr Essen had nothing to do with the woman.
Williams pled guilty to culpable homicide. Sentence was deferred.
The High Court in Glasgow was told Williams had been dating the 22-year-old woman on and off for the previous six years.
He heard she had been flirting with another man while working as a barmaid at the Rowan Tree Pub in Mayfield.
Glass window
The court heard a drunken Williams stormed into the pub when the woman was working on the evening of 24 November.
Mr Essen was in the pub at the time with friends.
CCTV footage played in court showed Williams battering a glass window while armed with a knife.
The barmaid tried to hide while contacting police.
Williams then rushed into the bar and started frantically stabbing at a fruit machine.
The pub DJ grabbed a cricket bat to try and get Williams out, before Mr Essen and a number of his friends stepped in to help.
Williams was forced outside into the car park - but he came back at the group with the blade.
He then tried to run off, but fell on the ground before a fight broke out. During this struggle, he lashed out with the knife, striking Mr Essen in the chest.
CCTV showed Mr Essen staggering away back into the bar, where he collapsed.
The father-of-one, from Dalkeith in Midlothian, was taken to hospital - but died in the early hours.
The court was told the killing has had a "profound impact" on Mr Essen's family.
Herbert Kerrigan QC, defending, said Williams was "extremely distressed" at what happened.
Mr Kerrigan added: "He is categoric and makes no suggestion that it was the deceased who was involved with his partner.
"He named another individual who he had suspicions about - but he said that person was not even present in the pub at the time."
Lord Matthews adjourned sentencing for reports. Williams was remanded in custody.