WW1 dead are reburied 100 years on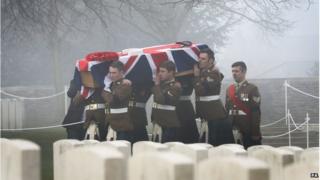 Twenty British soldiers have been reinterred in northern France, almost a century after they were killed in action during the 1915 Battle of Loos.
Their remains were uncovered in 2010, during construction work near Vendin-le-Vieil, north of Arras.
It has been possible to identify just one of the men - the only one found with an identity disc.
He was Pte William McAleer, from the 7th Battalion the Royal Scots Fusiliers, who came from Leven in Fife.
All 20 soldiers were buried with full military honours at the Loos British Cemetery.
The 19 interred as soldiers "Known unto God" included a Northumberland Fusilier, a further six Royal Scots Fusiliers, a member of the York and Lancaster Regiment, and two Queen's Own Cameron Highlanders.
No military unit has been identified for nine of the men.
Members of The 2nd Battalion The Royal Regiment of Scotland took part in the ceremony in Northern France.
Pte McAleer, who was born on 26 February 1893, has no direct descendants. His immediate family emigrated to the United States.
The family were represented at the ceremony, however, by Stephen Macleod, who is related through Pte McAleer's half-brother.
Mr Macleod told BBC Radio Scotland: "To attend any First World War or Second World War ceremony, it's an honour to go along and it's moving.
"But it is more poignant and unique when it's a relative, especially in the centenary year, to lay to rest your kith and kin."
Find out how close we came to peace in 1914 and more about the WW1 Centenary.