Volunteer passengers get on board for Edinburgh tram tests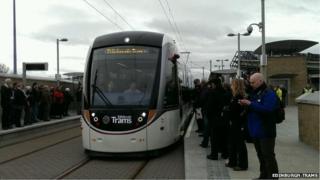 Hundreds of volunteer passengers have been getting on board Edinburgh's trams to help check how the new system works.
Operators said they wanted to carry out a number of realistic exercises to test operational and safety procedures.
Test runs have also been taking place for drivers to get used to the route and flow of traffic. Edinburgh Council hopes services can be launched in May.
The controversial project has seen the construction of a line from Edinburgh Airport to York Place, costing £776m.
A new organisation called Transport for Edinburgh is overseeing the capital's tram and bus services.