Audio tour record for Royal Yacht Britannia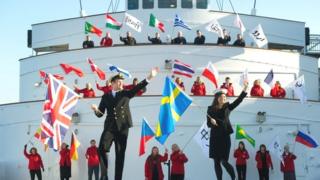 The Royal Yacht Britannia now has the world's most translated audio tour, according to officials at the Edinburgh visitor attraction.
Tours of the Leith-berthed ship are now available in 27 different languages.
Brazilian, Portuguese, Turkish, Thai, Cantonese and Punjabi were all added this year to the list of languages on offer, in response to customer demand.
Britannia sailed the oceans for nearly 44 years, travelling more than a million nautical miles.
The vessel called in at more than 600 ports in 135 countries.
'Iconic ship'
For the Queen and other members of the Royal Family it was a residence for state occasions, official receptions, honeymoons and holidays.
The 60th anniversary of its launch was celebrated last spring.
The audio guide talks visitors through their walk around the Queen's former floating palace, situated in the Leith area of Edinburgh.
Highlights include the State Dining Room, the Queen's bedroom, the crew's quarters and the engine room.
Lynda Dalgleish, head of marketing at the five-star attraction, said: "Britannia travelled the world and now the world travels to Britannia, as each year we welcome 300,000 visitors from across the globe to experience this iconic ship.
"New languages have been added gradually in response to demand from customers and this year also saw the introduction of our British Sign Language tablet."