Sparrowhawk rescued from netting on school roof in Edinburgh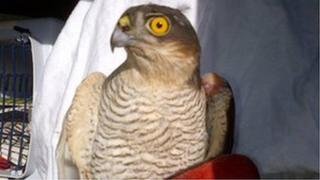 A bird of prey has been rescued after it was found trapped behind netting on a school roof.
Scottish SPCA officers freed the sparrowhawk at Portobello High School in Edinburgh at about 07:45 on Monday.
A few minutes later the charity then rescued a long-eared owl which was found lying in a field in West Linton in the Borders.
The injured birds are now at the Scottish SPCA's wildlife rescue centre at Fishcross, Clackmannanshire.
Stephanie Grant, of the Scottish SPCA, said: "The sparrowhawk had managed to get itself trapped behind the netting, which is designed to deter pigeons from landing on the roof of the building.
"It had a sore beak, possibly from bashing off the walls while trying to escape, and it also had quite a large lump on its wing.
"Our vet believes this is an old injury the hawk might have received from another bird, which has then become infected."
She said the long-eared owl was found grounded beside a fence.
"He has a shoulder injury which should heal with a few weeks' cage rest," she said.
"We are hopeful both birds will make a full recovery after some recuperation and rehabilitation."