Edinburgh Art Festival 2014 programme launched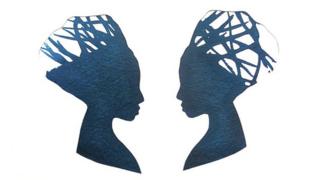 Edinburgh's art festival has revealed its 2014 programme, with 40 exhibitions showing in 30 of the city's museums and galleries during August.
The UK's largest annual celebration of visual art, in its 11th year, will bring together 100 leading and emerging Scottish and international artists.
There will also be a major international group exhibition.
"Where do I end and you begin", will have five curators and 20 artists from five Commonwealth countries.
There will also be the first UK exhibition outside London by contemporary artist Isa Genzken (at Inverleith House) and major exhibitions including recent sculpture and video work by American-born artist Susan Hiller (at Summerhall).
There will be new work by Scottish artist John Byrne (at Bourne Fine Art) and a survey of five decades of paintings by Leon Morrocco (at Open Eye Gallery) together with a new commission by Tris Vonna-Michell (at Collective).
The international group exhibition is being shown to coincide with the Commonwealth Games in Glasgow and the year of Homecoming Scotland.
Held across four floors of the City Art Centre, the exhibition brings together curators and artists from New Zealand, South Africa, India, Canada and the UK.
Taking its title from a work by Indian artist, Shilpa Gupta, "Where do I end and you begin" has perspectives from five points across the Commonwealth showing the ideas, ideals and myths.
The exhibition will show what it means to join "common" with "wealth".
Many of the artists are showing in the UK for the first time, with several presenting new work specifically for the exhibition.
Sorcha Carey, director of Edinburgh Art Festival, said: "As the only major annual festival dedicated to the visual arts within the UK, Edinburgh Art Festival occupies a uniquely important place in the cultural calendar.
"Our 2014 programme continues to provide audiences with an unrivalled opportunity to immerse themselves in the very best historic and contemporary art, with an extraordinarily rich series of solo and group presentations of Scottish contemporary artists alongside exhibitions of leading international artists, many showing in the UK for the very first time."
This year's Edinburgh Art Festival runs between 31 July and 31 August.