Victoria Hospital in Kirkcaldy 'must improve' elderly care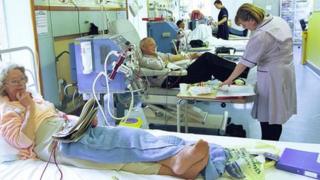 A Fife hospital is still providing poor care to older people despite being criticised in a report last year, according to inspectors.
Healthcare Improvement Scotland said patient meals at the Victoria Hospital in Kirkcaldy were poorly organised.
Inspectors found patient records were not being completed, and screening for dementia was not routinely carried out.
The report on December's unannounced inspection highlighted one area of strength and 11 areas for improvement.
Many of those improvements had been identified during a previous inspection in May 2013.
The inspectors who visited the hospital in December criticised NHS Fife for moving patients with cognitive impairment from specialist wards for non-medical reasons, a practice known as boarding.
Clinical needs
The report said: "Although we are assured there have been improvements in the way NHS Fife manages patient capacity and flow, we remain concerned about patients with cognitive impairment being boarded for non-clinical reasons.
"Boarding is when patients are moved from one ward to another to meet the needs of the service and not the patient's clinical needs."
Jacqueline Macrae, head of quality of care at Healthcare Improvement Scotland, said there had been examples of "positive, caring and friendly interactions between staff and patients, with the majority speaking highly of the care they received.
"Staff told us they felt supported by senior management and wards were managed in a calm and organised manner.
"However, we identified several areas where NHS Fife must improve the care provided to older people."
She said these areas for improvement needed to be addressed "as a matter of priority".
Dr Gordon Birnie, NHS Fife medical director for acute services, said: "We are pleased to note that the inspectors recognise the significant improvements in the way patient capacity and flow are managed within the hospital.
"Moreover, the introduction of new systems and processes, including the discharge hub, has further improved patient safety, care and dignity.
"It is reassuring the inspectors witnessed positive, caring and friendly interactions between staff and patients, and that 96% of patients indicated the care they received was good."
He said a number of issues were raised in the report which NHS Fife "is actively addressing through an improvement action plan, including the standard of documentation in a number of areas, including resuscitation status, the organisation of meal-times, the accurate recording of patients' fluid and food intake, and pressure area risk management".
He added: "NHS Fife has a strategic aim to become an organisation where no patients are boarded. We currently have policies in place to minimise boarding and any associated risks.
"The numbers of patients being boarded is reducing and we continue to monitor this on a daily basis."