Cat food found laced with blue 'poison' in Fife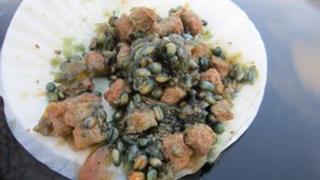 Cat food laced with suspected poison has been found in Fife.
A woman found a paper case filled with tinned meat with blue grains in it lying on the ground behind the back wheel of her car in Dalgety Bay.
Animal welfare charity Scottish SPCA are now doing tests on the food and blue grains, which was found on Saturday.
The Scottish SPCA is appealing for witnesses or anyone with information to come forward.
'Very concerned'
John Chisholm, of the Scottish SPCA, said: "The lady made the unsettling discovery on Saturday and she believes the food was left there sometime between Friday night and Saturday morning.
"At this stage we cannot confirm what substance the blue grains are, but we think they are highly likely to be some sort of rat poison. This may not kill a cat outright but would certainly cause serious harm and suffering.
"The finder was quite distressed because she is caring for her neighbour's cat at the moment, and he often sits next to her car.
"This may have been a deliberate, targeted attack and we are conducting door-to-door inquiries in the area to establish whether anyone knows anything or has seen anyone acting suspiciously.
"We are very concerned by increasing reports of suspected cat poisonings all over the country. This is the latest in a number of incidents that we have been alerted to in recent months."