Theresa Riggi found dead in secure hospital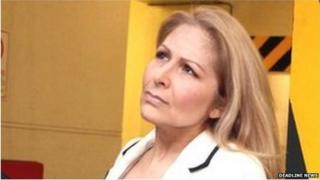 An American woman who killed her three children in Edinburgh has been found dead in a secure hospital in Nottinghamshire.
Theresa Riggi, 50, was sentenced to 16 years in jail after the deaths of her children in August 2010.
She had pleaded guilty to a charge of culpable homicide on the grounds of diminished responsibility.
The BBC has been told that she was found dead at Rampton Secure Hospital in Nottinghamshire.
Nottinghamshire Police said officers were called to the hospital at about 02:00 following the death of a woman.
A spokesman said the death was "unexplained but non-suspicious". A file was being prepared for the coroner.
Riggi, originally from California, United States, killed her three children, eight-year-old twins Austin and Luke, and their sister Cecilia, five, stabbing each of them eight times.
She then tried to cover up their deaths with a gas explosion, before trying to kill herself by leaping out of their second-floor flat.
She had moved to Edinburgh with her children from Skene, Aberdeenshire, following the break-up of her marriage to the children's father.
Judge Lord Bracadale described the killings as "truly disturbing" and "grotesque".
Riggi was initially charged with murder but admitted three counts of the lesser charge of culpable homicide on the grounds of diminished responsibility.
A court heard that a report into her mental state identified narcissistic, paranoid and hysterical personality disorders.
She was moved to a secure hospital from the all-female Cornton Vale Prison, near Stirling, after reports that she had been attacked in the jail.