Businessman denies influencing ex-wife Deirdre Romanes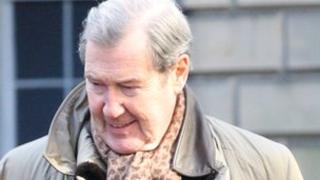 A businessman has denied influencing his millionaire ex-wife to change her will on her death-bed in Edinburgh.
Iain Romanes, 66, insisted his former wife would have fought a court battle to overturn her expressed wishes.
Just days before dying from cancer, newspaper owner Deirdre Romanes signed documents making £3,000,000 available to the Dunfermline Press group.
Sister Elizabeth Smyth, 61, claims the change robbed her of half of what she would have got from an earlier will.
She also claims the last-minute change benefited Mr Romanes, who held a substantial stake in the newspaper publishing company.
The Court of Session in Edinburgh has heard how Mr Romanes returned to Edinburgh for the last two week's of his former wife's life in May 2010.
He had left her nine years earlier for another woman, but spent time with 60-year-old Mrs Romanes in her Edinburgh home, although other close family members were kept at arm's length.
On Friday, Mr Romanes was questioned in court by Mrs Smyth, from County Meath in Ireland, who is conducting her own case.
He said he could not recollect being at a meeting which discussed Mrs Romanes' legacy in May 2010 - even though a note by one of her executors indicated he was at the meeting in the Heriot Row drawing room.
Her former husband also said the changes in Mrs Romanes legacies, estimated at more than £4m, were the "culmination" of a long process.
He said: "This had been going on for months. I don't know when Deirdre had begun discussions about changing the will but it certainly wasn't something spontaneous after I arrived."
He said papers had already been drawn up by the time he got there.
He said: "I got the feeling that a new will had been drafted months before I arrived."
Mr Romanes indicated that, living in Monaco, he did not feel he should invest his own money in Dunfermline Press.
His ex-wife's investment, through an off-shore trust fund, would have resulted in tax advantages if the company had been sold.
He also denied a suggestion from Mrs Smyth that he had been organising meetings.
"That is not like it was. I was there purely to be at the beck and call of your sister in the last days of her life," he said.
Mrs Smyth asked why her late sister, who had no children, had changed her mind so dramatically.
"I don't think this was dramatic," said Mr Romanes.
"It wasn't spontaneous. It was planned by Deirdre for several months beforehand. I don't see why you use the word 'dramatic'".
Mr Romanes also told the court he thought his ex-wife would have supported her executors, who are resisting Mrs Smyth's challenge to the 2010 will.
Mrs Smyth is asking judge Lord Glennie to rule that, when her sister signed papers changing her 2008 will, she "lacked capacity" and was easily influenced.
Mrs Romanes was taking heavy doses of powerful pain-killers, the court has heard.
The court has also heard the planned investment was not successful. No money was paid into Dunfermline Press and the company went into receivership.
The hearing is due to continue next month.