Model helicopters stolen from Edinburgh 'could cause injury'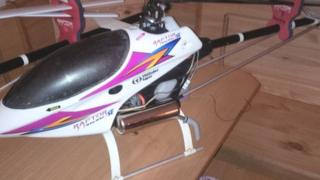 Two model helicopters stolen from a parked van in Edinburgh "could cause serious injury", police have said.
The models and a remote control were stolen from a van on Gordon Road between 18:30 and 19:50 on 23 February.
The models, worth about £1,500 each, have batteries that can explode if left beside heat and rotator blades that "can cause serious injury" if used by someone unfamiliar with them.
Police Scotland is appealing for witnesses.
PC Sarah Bloomfield said: "The two helicopters are each valued between £1,300 to £1,500 and the owner is obviously keen to recover them as they are unique items."