West Lothian Council may quit Cosla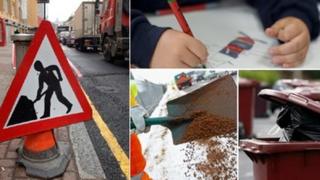 The crisis facing the local government umbrella body Cosla has intensified after another council warned it could leave.
West Lothian Council is the seventh to announce it may leave the organisation.
The council said the move to give notice is precautionary, given the continuing uncertainty over the organisation.
The ongoing row is over a complex dispute about where power should lie within Cosla.
Cosla represents the collective interests of Scotland's 32 councils.
Aberdeen, Dumfries and Galloway, Renfrewshire, Inverclyde, South Lanarkshire and Glasgow councils have also warned they may leave in April 2015.
The organisation's rules require councils to give one financial year's notice before they leave.
John McGinty, West Lothian Council's leader, said: "We are giving Cosla one year's notice of our intention to leave the organisation.
"In the past few weeks, a significant proportion of member councils have already given notice that they plan to leave Cosla in April 2015.
"There is a huge amount of uncertainty and instability surrounding Cosla at the present time and, at this stage, it is not clear how that will develop over the coming year."
He added: "In 2015/16, West Lothian Council faces a significant funding gap of nearly £12m as funding received by the Scottish government is not sufficient to meet the needs of local people.
"Significant challenges lie ahead and the decision today shows that we are reserving our right to take the appropriate precautionary measures which we firmly believe are in the best interests of local people."
The dispute at Cosla came to the boil after a row over how government cash should be spread between councils.
Possible changes to the power structure later this year could see council leaders, and the Labour Party, have less influence within the organisation.