Hamster found dumped in tube on pavement in Edinburgh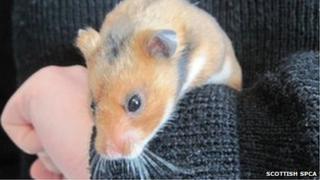 A hamster has been found abandoned inside a plastic play tube in Edinburgh.
The animal was discovered in Dumbeg Park in the Wester Hailes area of the city at 16:00 on Saturday.
The brown and white adult male Syrian hamster was found by a member of the public on the pavement.
It is being cared for by the Scottish SPCA's Edinburgh and Lothians animal rescue and rehoming centre, and has been named Fievel.
Stephanie Grant, of the Scottish SPCA, said: "Fievel was found at around 16:00 on Saturday inside a blue and transparent plastic tube, which looks like an attachment to a hamster cage.
"The tube was open at one end so he could easily have escaped and come to harm from nearby traffic or predators.
"I also noticed there was no food available for Fievel to eat so it's very lucky he was found alive and well."
She added: "He's a friendly little guy who doesn't mind being handled and he's in good condition so he's clearly been someone's pet.
"However, this doesn't excuse the fact that he's been dumped on the street like a piece of rubbish."
Abandoning an animal is an offence under the Animal Health and Welfare (Scotland) Act 2006 and anyone found guilty of doing so can expect to be banned from keeping animals for a fixed period or life.