Pub customers rescue man from burning car in Pathhead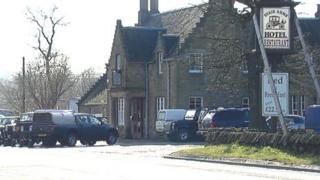 Pub customers have been praised by firefighters for rescuing a man from a burning car.
They said the outcome of the collision could have been much worse had they not intervened.
Two cars were involved in the crash on the A68 in Pathhead just after 19:45 on Saturday.
Customers of the Stair Arms Hotel in Pathhead rescued one of the drivers and helped others out of the vehicles which had caught fire.
They also tried to put out the blaze using fire extinguishers.
Everyone was safe by the time the firefighters arrived.
Fire severity
The fire service said if the occupants had not got out of the vehicles they would not have survived because of the severity of the fire.
Craig Thomson, incident commander of the Scottish Fire and Rescue Service, said: "In my opinion, had the customers of the Stair Arms Hotel not intervened and rescued the driver from one of the vehicles, the outcome would have been very different.
"In addition to rescuing the driver and assisting the other occupants of the two cars, they also tried to tackle the fire with fire extinguishers but were unable to extinguish it as it was too well developed.
"We arrived to find two vehicles ablaze and five people being comforted in the Stair Arms Hotel.
"Had anyone been trapped within the cars, they would not have survived due to the severity of the fire."