Newspaper boss Deirdre Romanes in pain signing will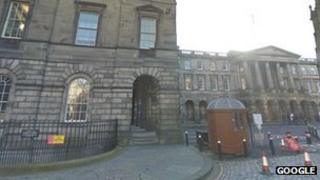 A Fife newspaper owner was fighting constant pain when she drew up a death-bed will, a court has heard.
A judge is being asked to rule on whether Deirdre Romanes' will, which would indirectly benefit her ex-husband, should stand.
Mrs Romanes' sister, Elizabeth Smyth, from Ireland, claims Iain Romanes was able to exert undue influence on his ex-wife when she "lacked capacity."
Mrs Smyth is conducting her own case at the Court of Session in Edinburgh .
'She suffered'
Mrs Smyth said the will cuts her share by 40%, compared with a will drawn up two years earlier.
The later will, signed days before 60-year-old Mrs Romanes lost her battle with cancer in May 2010, left the bulk of her fortune to a trust fund, an arrangement which would also benefit her former husband.
The marriage to Monaco-based Iain Romanes broke up in 2001 when he left her for another woman and they divorced five years later.
Mrs Romanes also left a note expressing her wish the trustees would do all they could to support the financially ailing Dunfermline Press, a family business going back to 1859. Mr Romanes was a director who held a block of shares.
On the second day of a two week hearing, judge Lord Glennie was told that Mrs Romanes took her medication at times which would leave her lucid for vital meetings about her estate, estimated at more than £4m.
"She suffered," said life-long friend Mrs Sandra Maxwell.
Solicitor
Questioned by Mrs Smyth - who is conducting her own case - Mrs Maxwell, from Kinross, said Mrs Romanes was taking heavy doses of opiate drugs in the last days of her life.
But she put up with the pain to remain lucid while waiting for a solicitor to arrive at her Heriot Row home in Edinburgh's New Town.
"The medication made her sleepy," said Mrs Maxwell. Not taking the drugs when she had business to conduct was a personal decision, she added.
Mrs Smyth asked if her sister might have been "easily imposed on" during discussions about her will.
"I believe that because she knew she was coming to the end of her life she may just have acquiesced because she wanted it dealt with," said Mrs Maxwell.
The hearing continues.