Pentland Hill care home criticised in report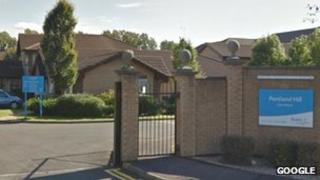 A private care home in Edinburgh has been criticised for failing to make sufficient improvements to the quality of its services.
Some improvements were found in BUPA's Pentland Hill care home
However, the Care Inspectorate said the improvements had not been consistent or sustained and more were needed.
Police have submitted an investigation into four deaths at the home to the procurator fiscal. Admissions remain suspended pending a further inspection.
Standard of care
The report concludes: "Evidence from this inspection is that BUPA has made changes to how Pentland Hill is run and managed.
"We have seen some improvements but these have not been consistent or sustained and more improvements are needed to ensure all residents receive better care.
"As a result the improvement notice dated 5 November 2013 has not been met.
"However, in recognition that the provider is taking steps to make the required improvements, we have extended the original timescales of the improvement notice to 28 February 2014 in relation to those areas of improvements where the timescales have now passed."
Dr Robert Peat, Care Inspectorate's director of inspection, said: "We have seen evidence of changes in how Pentland Hill is run, including a new manager, which is welcome.
"Overall, the home has made some progress but we need to see greater and faster improvements so the changes are sustained and consistent.
"Every person is entitled to high-quality, safe care that is compassionate.
"We seriously considered whether to use our powers to request that a sheriff closes this home, but determined on balance that the best outcome for residents is to continue to drive improvements, providing they can be made quickly."
A Pentland Hill care home spokeswoman said: "We're pleased that the Care Inspectorate's inspection, which was carried out in December, found that there were improvements within the home.
"These have also been recognised by our residents and their families.
"We continue to work hard to ensure all improvements are sustained and that we're delivering a consistently high standard of care to our residents."