Otter cub found near dead mother in Newburgh wood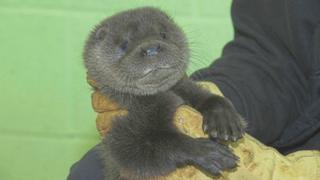 An otter cub has been rescued after being found near its dead mother in Fife woodland.
The male cub was found by a dog walker in Back Braes in Newburgh, along with its brother. However, the other cub died.
The surviving 10-week-old is now being cared for by the Scottish SPCA at its wildlife rescue centre in Fishcross, Clackmannanshire.
It is hoped the cub, named Tay, can be paired up with a cub of similar age.
Animal Rescue officer Robyn Gray, of the Scottish SPCA, said: "The man who found the cubs called us after his dog noticed them lying not far from their mother's body.
"I was able to catch the smaller cub, who later passed away, fairly easily as he was really lethargic but the second cub was a lot more feisty.
"While it's very sad that one of the cubs didn't survive, I'm glad I was able to help Tay as otters are dependent on their mothers until they're around a year old."
'Doing fine'
Colin Seddon, the Scottish SPCA's national wildlife rescue centre manager, said: "Tay was weak on arrival but he is responding to treatment.
"Understandably, he is still quite stressed from the loss of his brother and mother but he is feeding himself which is a very good sign he is already on the road to recovery.
"We hope to pair Tay up with a cub of a similar age soon as this will help his development.
"For now he's doing fine on his own and we'll continue to care for him for at least the next 12 months until he is mature enough to fend for himself in the wild."