£292,000 for new Adam Smith Centre in Fife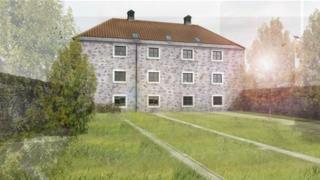 A new exhibition and visitor centre in Fife is to be built in the home town of the famous economist Adam Smith.
UK Communities Secretary Eric Pickles announced government funding for the initiative, which will be housed in a renovated listed building in Kirkcaldy.
He revealed £292,000 from the Coastal Communities Fund would go towards the project.
It will cost £700,000 with cash also from Fife Council, Historic Scotland and the Fife Environment Trust.
Smith, who was born in Kirkcaldy, has been described as the founding father of modern economics after his work The Wealth of Nations was published in 1776.
Mr Pickles announced funding for the Adam Smith Global Foundation Exhibition Centre after visiting the Foundation, which works to combat poverty as well as commemorate Smith's work, in Kirkcaldy.
The Communities Secretary stopped off for the meeting on his way to take part in the UK Cabinet meeting in Aberdeen.
Stronger economy
Mr Pickles said: "Adam Smith was one of Kirkcaldy's most famous sons and was rightly given pride of place on the United Kingdom's £20 note.
"So, it's great the Global Foundation is making his legacy a catalyst for regenerating Kirkcaldy and the local economy.
"The UK Government is backing businesses, local areas and industries to prosper, and build a stronger economy across the country.
"I am delighted to announce over a quarter of million pounds for the new exhibition centre which will help Kirkcaldy tap into new business opportunities that will create local jobs, boost the local economy and develop skills that will benefit the whole community."
The new centre is the first project to be announced as part of the second round of grants from the Coastal Communities Fund.
Money from the fund is already going to 130 seaside towns, supporting projects that will create more than 6,000 jobs across the UK.
It is the 19th project in Scotland to benefit from funding, with grants totalling more than £4m already awarded north of the border.
Marilyn Livingstone, chief executive officer for the Adam Smith Global Foundation, said: "This funding will allow completion of this amazing project, which will support the legacy of Adam Smith in his birthplace of Kirkcaldy as well as kick-starting Kirkcaldy's ambition to regenerate its historic Merchant's Quarter."