Brutal homophobic attack on man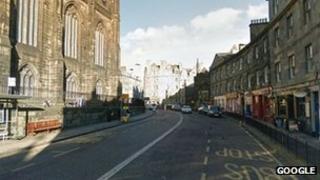 A man was pushed to ground and kicked in the face in a "brutal, unprovoked and homophobic attack" in Edinburgh, police have said.
Officers said the assault took place at about 03:10 when two men were walking on Johnston Terrace, heading towards the Lawnmarket.
They were approached and verbally abused by three other men.
One of the group punched the victim to the ground before he and one of his companions kicked him in the face.
After the attack, the three men ran off and were chased by two passers-by into Castle Terrace, where they lost sight of them.
PC Neil McIntyre, who is leading the investigation, said he was keen to speak to any witness, particularly the two men who came to the victim's aid.
He said: "We have descriptions of two of the men who carried out this vicious assault, and both are described as being white British men in their mid-20s, with one being 5ft 6in in height and the other being 6ft tall.
"The first man had short, dirty blonde hair, was clean shaven and was wearing a black cardigan or jumper, while his taller companion had olive skin and black hair and was wearing a white top with long sleeves."