Experts unearth ancient murder victim in East Lothian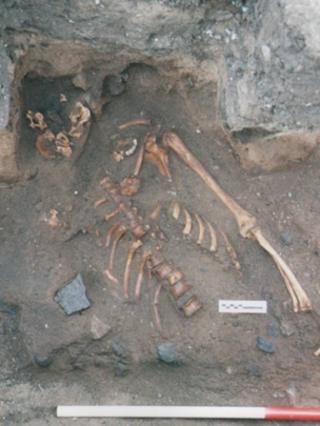 Archaeologists have discovered a 900-year-old murder victim during a dig at the Scottish Seabird Centre in East Lothian.
They found the skeleton of a young man dating from the 12th or 13th Centuries while investigating Kirk Ness, which was the site of a North Berwick church.
Analysis revealed he was fatally stabbed four times in the back, twice in the left shoulder and in the ribs.
The archaeologists said he was over the age of 20.
They said his build was slightly bigger than average and his shoulder was worn down, suggesting he might have been an archer.
The dig, organised by the Scottish Seabird Centre and supported by Historic Scotland, also revealed structural remains, including stone tools, lead objects, ceramic material and bones of butchered seals, fish and seabirds which suggest a community lived at the site.
Tom Brock, chief executive of the Scottish Seabird Centre, said: "Being at the centre of a 900-year-old murder mystery is very exciting for the Scottish Seabird Centre.
"As an independent visitor attraction, conservation and education charity, we are dedicated to inspiring people to enjoy, protect and learn about their local environment, and this dig has allowed us great insight into how life was lived in the North Berwick area almost 1,000 years ago.
"The site of the centre is a historic site of national importance and visitors can find out more about this rich history from information displayed within and around the Seabird Centre."
Military men
Archaeologists uncovered various graves at the site during the dig, which was prompted by the expansion of the centre.
By assessing the size, shape and relative positions of the injuries to the bones of the murdered man, they worked out the dagger-like weapon used to stab him had a symmetrical lozenge-shaped section with very sharp edges and was probably at least 2.75ins (6.9cm) long.
Archaeologists said daggers with a lozenge-sectioned blade were a specialist military weapon and carried mainly by military men. They said this, combined with the accuracy of the stab wounds, implied a degree of professionalism in the killing and a degree of calculation.
The bones may be re-interred in the cemetery.
The dig was carried out by Edinburgh-based Addyman Archaeology, with work undertaken between 2000 and 2006 followed by scientific analysis.
The findings of the Kirk Ness project have been documented in a new book The Medieval Kirk, Cemetery and Hospice at Kirk Ness, North Berwick: The Scottish Seabird Centre Excavations 1999-2006.