Edinburgh trams: £1m campaign to bring people back to city centre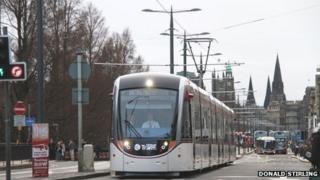 A £1m campaign has been launched aimed at attracting families and shoppers back into Edinburgh city centre following an end to the tram works.
Officials hope the move will stimulate an additional £50m spend in the city centre over the next two years.
The campaign follows a survey of 2,000 residents, in which 92% said they felt the tram works had affected their enjoyment of the city centre.
Almost 30% said they shopped there less than they did a couple of years ago.
However, 87% of the people questioned said they were now open to coming back into the city centre more often.
Officials said the campaign was targeted at residents of Edinburgh and people who lived within a two-hour drive of the city.
The campaign, called This is Edinburgh, aims to increase footfall to the centre by 2% above the national average.
Hidden gems
Andrew Burns, Edinburgh City Council's leader, said: "Edinburgh is a unique and world class place but we recognise that some folk may be out of the habit of coming into town.
"This campaign lets the city speak for itself, reminding people of the fantastic and diverse proposition that the city centre has to offer."
John Donnelly, Marketing Edinburgh chief executive, said: "When we set out to create the campaign, we spoke with lots of different groups, listening to their opinions on Edinburgh.
"Overwhelmingly, our research found that residents had become very resistant and unresponsive to what they see as adverts of Edinburgh for the tourists.
"What did excite them however was the idea of rediscovering their city, finding its hidden gems and engaging residents in that conversation through social media."
This Is Edinburgh advertising was created by Edinburgh-based agency, The Lane. The first TV advert will air on Monday at 19:45 on STV.