Animals' futures in doubt after Fife Animal Park closes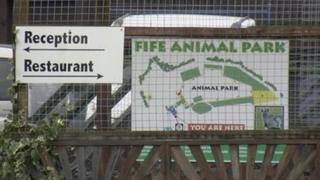 The future of hundreds of exotic animals is in doubt after a Fife zoo closed.
Fife Animal Park, near Cupar, houses 76 species including water buffalo, a zebra and meerkats, raccoons, Shetland ponies and Jacob sheep.
Fife Council and the Scottish SPCA are now working to rehome the animals.
In 2013 the park was up for sale but it was blocked by the charity regulator, which wanted clarification of the assets owned by the Fife Animal Trust.
The 10-acre park is owned by Peter and Jocky Lockhart, while the animals and some of the equipment are owned by the Fife Animal Trust.
Reasons for the park's closure are expected to come from the charity's trustees later.
The animals will still live at the site while the council looks for new homes for them.
Legal care
Roy Stewart, Fife Council's protective services senior manager, said: "The welfare of the animals at Fife Animal Park is our primary concern at this time.
"Although Fife Council doesn't own the park or the animals it has a duty to protect them and legally they are now in our care.
"Since the park closed, the council has been working closely with the tust staff, the SSPCA, British and Irish Association of Zoos and Aquariums and charity regulator OSCR to ensure the animals in the park continue to get all of the care they need on a day-to-day basis."
He added that while Fife Council had access to the zoo to ensure the welfare of the animals was upheld, it had not taken over its operation.
"The landowner and the council have agreed that council and trust staff resources available will focus on the welfare of the animals and there remains no public access to the park at this time," Mr Stewart said.
"The council will be applying to the courts for legal powers to rehome the animals as soon as we can."