Man rescued after injury on scaffolding in Edinburgh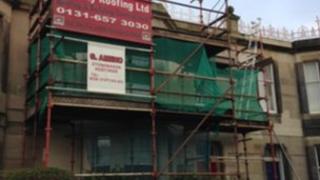 A man has been rescued from scaffolding in Edinburgh after suffering a hip injury.
Three special operations ambulances were called to the scene in Dudley Gardens in Trinity just after 09:00.
He was taken to Edinburgh Royal Infirmary.
A City Roofing spokeswoman said: "He did not fall, but he has dislocated his pelvis."