£9.6m boost for The Haymarket site in Edinburgh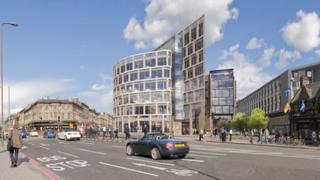 A development expected to create thousands of jobs in the capital is to benefit from a £9.6m investment from the Scottish government.
The money will fund initial work at the site of The Haymarket, a £200m office, hotel and retail project in Edinburgh.
It will go towards preparatory work at the four-acre site, including strengthening two railway tunnels and archaeological excavations.
Up to 3,500 jobs could be created through the venture.
The investment comes from the Spruce (Scottish Partnership for Regeneration in Urban Centres) fund, which has been established with Scottish government and European Regional Development Fund money.
Announcing the investment during a visit to the site, Deputy First Minister Nicola Sturgeon said: "The Haymarket is one of the biggest commercial property projects to take place in Edinburgh and will substantially regenerate this part of the capital, transforming derelict land and creating thousands of jobs and opportunities for growth.
"The Scottish government's investment through the Spruce fund has acted as a catalyst for the regeneration of this site."
'Crucial work'
She added: "Without this investment crucial remedial work could not go ahead.
"Once complete, this fantastic multi-purpose site will provide much needed, high-spec office and retail space for the city as well as a new hotel for visitors.
"This will allow Edinburgh to continue to compete effectively with other large cities, and help to attract companies from across the globe."
David Westwater, Interserve development director, said: "We are delighted that work has begun on site to prepare for construction above ground and the Scottish government's welcome contribution has been pivotal in helping the development to progress.
"Its support underlines that this is one of the most significant regeneration schemes in the UK outside of London and that is further reflected in the very strong interest shown by the business community already."