DNA chip could boost salmon stocks in Scotland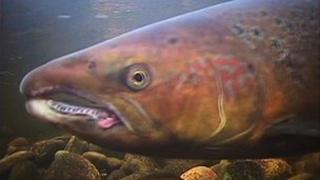 New technology could boost Atlantic salmon production by helping farmers to select the best fish for breeding.
Scientists have developed a chip, which will allow breeders to detect the fish with the best genes and improve resistance to disease.
The chip is loaded with hundreds of thousands of pieces of DNA, each with a fragment of the salmon's genetic code.
It was developed by scientists from Edinburgh, Glasgow and Stirling universities.
The chip detects variations in the genetic code of individual fish that make it possible to identify genes linked to desirable physical traits, such as growth or resistance to problematic diseases including sea lice infestations.
Salmon farmers can carry out a test using small samples of fin tissue from individual fish.
It is hoped that the development could transform an industry that contributes around half a billion pounds to the UK economy every year.
Robust offspring
The scientists worked with industrial partners Affymetrix UK and Landcatch Natural Selection.
Ross Houston, of the Roslin Institute, said: "Selective breeding programmes have been used to improve salmon stocks since the 1970s.
"This new technology will allow the best breeding fish to be selected more efficiently and accurately, particularly those with characteristics that are difficult to measure such as resistance to disease."
Alan Tinch, director of genetics at Landcatch Natural Selection, said: "This development takes selective breeding programmes to a whole new level.
"It is an extension to the selective breeding of salmon allowing more accurate identification of the best fish to create healthier and more robust offspring."