Runway sheep caused microlight crash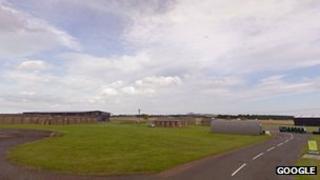 A microlight pilot crashed when a flock of sheep wandered onto the runway during his take-off, it has emerged.
The 43-year-old man was moments from lift-off at East Fortune Airfield in East Lothian when several sheep jumped over a fence from their field.
The pilot aborted his take-off, hit the brakes and passed through the flock before crashing into a concrete truss.
The Air Accidents Investigation Branch has published its report into the incident, which happened in September.
The aircraft involved was a Mainair Blade 912 which only had the pilot onboard. He escaped with only minor injuries, but the crash caused damage to the landing gear and main body of the aircraft.
The report said the weather was good in the area at the time, and another pilot had made a successful take-off just two minutes before the accident.
Landing gear
The AAIB report said: "As his take-off progressed, one sheep, followed by several more, jumped an adjacent fence and crossed the runway ahead of him.
"Although he had been just about to rotate, he aborted the take-off, reducing power to idle and braking.
"The aircraft passed through the middle of the sheep, just missing them.
"The pilot realised that there was insufficient runway ahead in which to stop, so switched off the engine. The aircraft impacted a concrete roof truss which had been placed across the runway's end.
"The pilot vacated the aircraft without difficulty, having suffered only minor injuries."
The owner of fields next to the airfield has now decided not to keep sheep near the runway and will graze other livestock in enclosed areas nearby, it added.